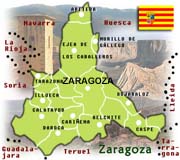 Learn here Zaragoza, like most other Spanish cities, has certainly seen its fair share of civilizations, conquests.
Culture & the Arts
A mix of civilizations has shaped this city's 2000 year old story, making it a veritable gold mine of cultural sites. As a result, Zaragoza is a city made for cultural tourism. Read more
Trips from Zaragoza
Zaragoza is an incredibly easy place to get to and from. It's right in between (and only an hour and a half away from) Barcelona and Madrid, and between Bilbao and Valencia. Read more
Planning a visit to Zaragoza? Coming here for business? Already living here and want to know more about your city? Look no further. What Zaragoza is your in-depth, up-to-date guide to this special Spanish city. We can guarantee you original and accurate content about one of Spain's best kept secrets. Navigate your way through these easy to use, info-packed sections and discover all there is to know about this genuine Spanish gem.
How to Use this Guide
We want to give you all the information for you to decide the best visits and activities in Zaragoza, learn about the city's background -About Zaragoza- and how to move around town -Transportation- amongst many other interesting details.