Huesca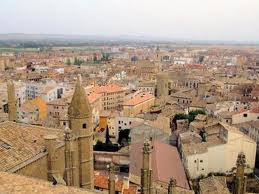 Huesca is located about 70 kms from Zaragoza at the foothills of the Pyrennees and near the French border.  It is the capital city of the Huesca Province and, after Zaragoza, the second biggest city in Aragon. Full of natural beauty and important cultural heritage, this city boasts a wide variety of interesting sites for tourism. There are lots of interesting examples of  ancient architecture and art: Romanesque in the churches of San Pedro el Viejo and San Miguel; Gothic in the Cathedral; Renaissance in the Town Hall; Baroque in the churches of Santo Domingo and San Lorenzo; and Moderniste in the Casino, Provincial Government building, and museums such as the Provincial Archaeological Museum.
All types of sports are widely enjoyed in this area as well. A large network of paths are perfect for cycling or walking and lead to interesting sites, such as natural springs, lakes, the hermitages of San Jorge, Salas, Cillas, Jara, Santa Lucía, Loreto, and the castle of Montearagón.
Huesca also has a long list of cultural events throughout the year, including the bullfighting fair in August, the cinema festival in June, the theater festival in spring, a drum band competition, a photography, book and record fair, and the "Periferias" festival of avant-garde music and art. The most famous festival here, however, is that of San Lorenzo, held from August 9th to the15th. This famous fiesta is full of traditional dance, music, basil (typical plant here), and of course those essentials of just about any Spanish festival: lots of food, plenty of parties, processions, bullfights and fireworks.
Highlights: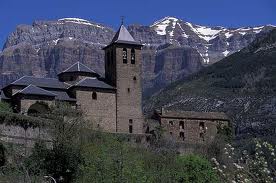 Huesca Cathedral (Catedral de la Transfiguración del Señor)

Church of St. Lawrence (Iglesia de San Lorenzo), 17th and 18th centuries.

Church of Santo Domingo, Baroque style.

Church of la Compañía San Vicente, 17th century.

Hermitage- Ermita de Ntr. Sra. de Salas-M.H.A.-, Romanesque and Baroque

Ermita de Loreto -M.H.A.-, San Lorenzo's cradle.

Ermita de San Jorge

Ermita de las Mártires

Ermita de Santa Lucía

Ermita de Jara, ruins

San Miguel, Romanesque tower

Santa María de Foris

Santa Cruz, Seminary, on Romanesque foundations.

The  Town Hall

The University of Huesca

La Cuatrro Esquinas (Four corners)

Los Porches de Galicia

San Pedro el Viejo (12th century; one of the oldest churches in Spain)

El Museo Diocesano

Several old monasteries (The one in Montearagón has the tomb of King Alfonso I)

Outdoor sports: Trekking, mountain biking, climbing, rafting, canoeing, golf, paragliding, glider planes, bungee-jumping, horseback riding, canyonning.
Loarre Castle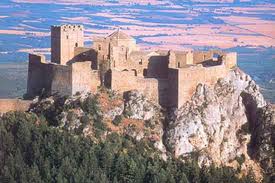 The remote castle of Loarre is less than thirty minutes drive northeast of Huesca in the region of La Hoya. This amazing fortress, built in the 11th to 12th century is one of the most important, and best preserved Romanesque Castles in all of Europe.  It once served as a royal palace, a monastery, and a fort which protected the border of the Kingdom of Aragon against the Muslim occupation. The province of Huesca and the castle of Loarre got a lot of international attention when, in 2004, the famous director Ridley Scott (Blade Runner, Gladiator, Hannibal, Alien, etc) chose the castle as one of the main settings for his film Kingdom of Heaven, starring Orlando Bloom and Liam Neeson.       
Highlights:
Capilla Real/ Nave

Convento de los Agustinos

Torres (Towers) :  Torre de la Reina, Torre de Homenaje

Romanesque church

Nearby: Mallos de Riglos,  Agüero and the monastery of Casbas