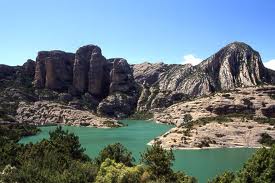 Sierra de Guara is a massive mountain range located in the pre-Pyrenees. It is an important bird reserve and the largest protected natural space of Aragon.  This area, and the villages within it, are rich in natural, historical and cultural value. Mediterranean and mixed forests, narrow cliffs, deep gorges, snow-caped summits, and wild rivers that have carved out one of the largest and best series of canyons in Europe are all to be found in Guara. There is also a plethora of medieval stone villages, megalithic constructions, dolmens and prehistoric cave paintings.
Highlights: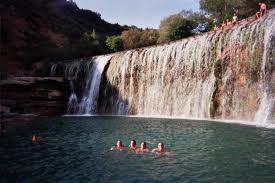 Villages of  la Sierra de Guara:

Rodellar:  charming little village, excellent Canyoning.

Abiego: traditional houses, Aragonese- Gothic Church,

Colgungo: paleolitihic cave paintings, dolmens and pre-historic cabins.

Adahuesca: picturesque old center, Baroque church of San Pedro, Centro de
interpretacion      

Alquézar: castle, ancient, charming maze of medieval and jewish streets.

Bierge: Aragonese-Gothic church of Santiago.


Río Vero cultural Park
Some of Europes best adventure sports; canyoning, kayaking, canoeing, rafting, mountain biking, alpinism, climbing, mountaineering, skiing, and snowboarding.