Highlights:
Isabel's courtyard

Troubadour Tower

Palace of King Pedro IV and Martin's Chapel

The Palace of Catholic Monarchs

The Throne Room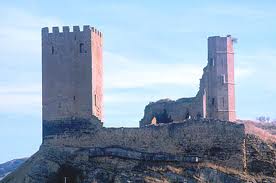 Isabel's Courtyard, named after Isabel the Catholic Queen, is located in the center and has a large square, open yard and garden. In the northrern part there is an impressive horseshoe shaped archway which leads to a Mosque. The entrance is made of beautiful brick and plaster work with white marble used for the flooring.
Troubadour Tower dates back to the 9th century with other parts and arches that are from the Caliph period, or late 11th century. The 2 upper floors were from the Christian period. This mysterious tower gets its namesake from the writer Antonio Garcia Gutierrez, who told a story of a troubadour, named Manrique de Lara, who was imprisoned here. Verdi later used this tale, and the tower, as the setting for one of his most famous operas: "Il Trovatore" or "The Minstrel's Tower".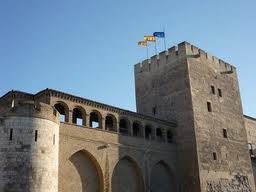 Late in the 14th century more renovation work was carried out on La Aljaferia and some chambers were changed into a stunning palace that would be used by the Catholic Monarchs Fernando and Isabel. Take the large ornate stairway with the giant decorated windows up to the top floor; it's here that you'll come upon the amazing Throne room, which has a fantastic, coffered Mudejar ceiling. Other rooms to check out are the Salón Dorado (The Golden room) and the Oratorio (The Oratory).