The movement known as the Renaissance, or "re-birth", originated in Florence, Italy and spread thooughout Europe in the 15th century.  It was a move towards humanism and aimed to make a re-connection with classical Roman and Greek cultures.  The concepts of the movement (rationality, balance and logic) encompassed every aspect of life, including architecture. 
In Spain, two forms of Renaissance architecture evolved: Plateresque and High Renaissance.  The term Plateresque comes from the word "Plateo", or silversmith in Spanish.  It indicates a style which incorporated classic and pure shapes of the Renaissance, such as circles, squares and triangles, but then used them to adorn highly decorated and intricately worked façades. High Renaissance came later and was a return to a simpler and cleaner design that made more use of mathematical proportions and symmetry.  
There is a long list of Renaissance palaces and buildings in Zaragoza, mostly in the Plateresque style.  Here are some of the highlights.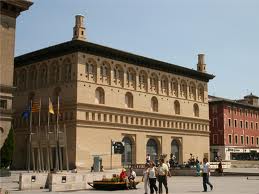 Casa de Armijo          
Calle Don Juan de Aragón, 7
Casa de los Morlanes 
Plaza de San Carlos, 4
Casa de Miguel Donlope: Real Maestranza de Caballería   
Dormer, 21
Casa Palacio de los Condes de Sástago       
Calle del Coso, 44
Casa Palacio de los Marqueses de Montemuzo        
C/ Santiago, 34
Casa Palacio de los Torrero  
San Voto, 7
House and arch of the Dean
Dean Street, 5
Ibercaja Camón Aznar Museum        
Espoz y Mina Street, 23
Iglesia Basílica de Santa Engracia    
Plaza de Santa Engracia, s/n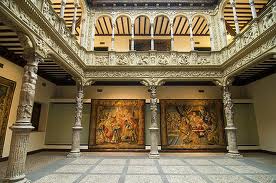 Museo Pablo Gargallo (Palacio de los Condes de Argillo)   
Plaza de San Felipe, 3
Palacio de los Condes de Morata o Luna     
Coso, 1           
Patio de la Infanta     
Plaza Basilio Paraiso, 2 (Ibercaja)
The Lonja       
Pilar Square