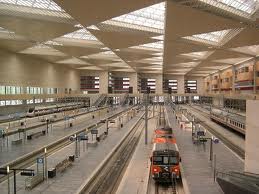 Taking the train is a great way to travel around and see any country, and Spain is definitely no exception. This country has an extensive and top-notch railway system, run by RENFE.  It is also quite affordable, making it a wonderful way to travel, and allows you to sit back, relax and let the beautiful and diverse scenery of this place pass by you.  Zaragoza is an important link in the Spanish rail network and has been taken to even yet another level recently with the addition of the AVE (high speed train).  The AVE will take you to or from Madrid or Barcelona for about €40 and in just under an hour and a half!  Soon this amazing high speed train will connect with Bilbao and France as well. The train and bus station now reside in the same new, modern looking building called Delicias Station.  It's located quite near to the city center, and next to the big Augusta shopping mall.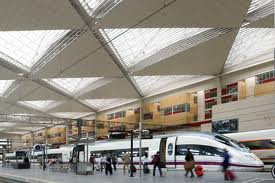 Zaragoza Train Station - Delicias Station
Avda Navarra, 80
National Tel: 902 240 202
International Tel: 902 243 402
www.renfe.es
Transport to/ from the Train Station
There are always tons of taxis waiting outside this busy station and you can get to the centre in 15 to 20 minutes for about €10.  Several buses also come and go from Delicias station. They also take about 20 minutes to the center and the charge is just €0.90. Look for bus numbers; 51, 129, 142, 21, 25, 27 and 42.