Highlights:
Plaza Pilar / Basilica of Pilar

La Lonja

La Seo

Church of San Pablo

Central Market

Roman museums

Stone Bridge

Roman theatre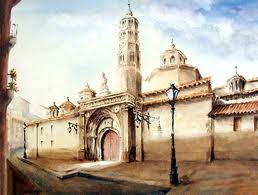 The Plaza of Pilar is considered the Plaza of Cathedrals and is definitely the heart of the historic center and of Zaragoza as a whole. It's home to, and named after, this city's most famous landmark: the massive and marvellous Basilica of Pilar.  Rumor has it that the Virgin Mary came here in person to set down "a pillar" so that the first Marian church in the Christian world could be built.  It is of an immense size, opulent and Baroque in style.  Inside you'll find some frescoes by Francisco Goya, an impressive altarpiece by Damián Forment and a high altar, organ and Holy Chapel designed by Ventura Rodríguez.
Just next to Pilar is La Lonja.  Built as a corn exchange and banking quarter for merchants in 1541, it is a great example of Aragonese Renaissance architecture.  It's currently used to hold municipal ehibitions.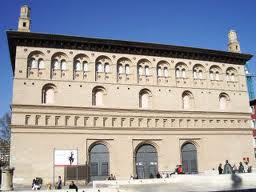 Not far from the Plaza of Pilar, you'll find Plaza de La Seo which is home to the oldest cathedral in Zaragoza- the magnificent Cathedral of San Salvador, otherwise known as La Seo.  This intriguing UNESCO World Heritage church sits on a site that was once a Roman temple, a Visigoth church and the main Muslim Mosque of the city. Evidence of its history remains in its combination of various styles: Romanesque, Gothic, Mudejar, Baroque, Renaissance and Neo-Classical. Inside, you shouldn't miss the amazing main alabaster altarpiece, completed in 1440, or the Tapestry Museum, which happens to be one of Europe's best collections.
The church of San Pablo has also been given World Heritage status by UNESCO for its stunning 14th century nave which is a monument to Mudejar style and one Zaragoza's best examples.  Don't miss the high altarpiece done by Damián Forment and the painting in the center by Jeronimo Cosida.
The style of Zaragoza's Central Market has been referred to as early Modernism (art-nouveau) or "eclecticism".  Traditional materials, like stone and brick, and modern ones, like iron and glass, were combined to construct this grand building.  A market has been on this site as far back as the 12th century.  Check out the carvings at the entrances which depict figures of farming, fishing and trading.