Aside from being one of Spain's best cities to go for tapas, Zaragoza has a long and varied list of restaurants. Some serve up a local gastronomy that has passed on age-old recipes from generation to generation, while others incorporate more modern ideas with traditional favorites to create new and innovative dishes.  Here's a list to get you started. Enjoy!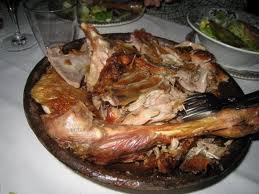 Asador de Aranda
Arquitecto Magdelena, 6
Go here for:  local, Castille-style specialities and "lechazo"- suckling lamb roasted in a firewood oven. One of Zaragoza's most famous restaurants.
El Chalet
Santa Teresa de Jesús, 25
Go here for: creative Aragonese cuisine with comfortable garden seating.
Alta Taberna del Mono Loco 
Paseo Pamplona, 17
Go here for:  delicious rice dishes, seafood and great steaks.
Asador La Junquera
Fuente de la Junquera, 120
Go here for:  traditional meals, meats and sausages, "asador" style (charcoal barbecue).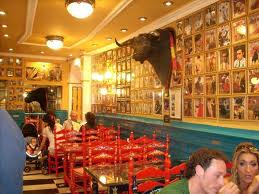 Taberna Mesón Martin
Maria Guerrero, 26
Go here for: home cooking of lots of regional and  local specialities.
Marpy
Plaza Santa Marta
Go here for: bullfighting "taurino" decor, famous bulls tail soup, other traditional dishes and tapas.
La Monclon
Calle San Lorenzo, 27
Go here for: boards of ham, cheese, pates, smoked fish and a great wine list.